Preparing for College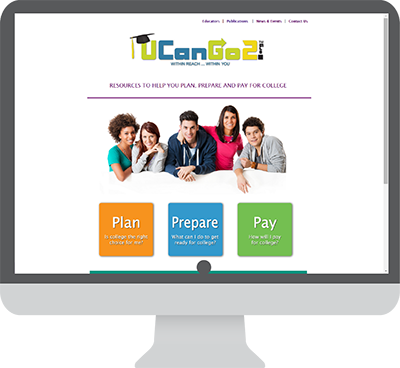 College is a great investment in your future. Not only will you meet new people, experience new things and gain independence, you'll also be more employable and have greater job stability. For more information about planning, preparing and paying for college, visit UCanGo2.org and download the college planning checklists.
::Getting Ready::
Take the right classes. Talk to your school counselor to ensure you're taking the core classes that meet college entrance requirements.
Study hard. Earning good grades can help you with your college admissions and possibly open the door to grant and scholarship opportunities.
Count extracurricular activities. Schools look at more than grades when making admission decisions. Involvement in extracurricular activities demonstrates time management skills and may lead to financial aid opportunities.
Volunteer. Colleges like students who give back to their communities. Volunteering can help you gain valuable job skills and networking opportunities. Also, consider internships or apprenticeships in a career field that interests you.
Take Advanced Placement (AP) classes. When it comes to college admissions, taking an easy A isn't as impressive as completing a challenging class. Proving you can succeed with a strong curriculum can help you get in to your chosen school, and high scores on AP exams may even earn you course credit or enable you to waive a class.
Explore the College-Level Examination Program (CLEP). The CLEP program consists of 33 tests in a variety of subjects and gives you the opportunity to earn college credit based on what you already know. This process is often referred to as "testing-out" and can save you time, money and possibly allow you to graduate early. Visit your college admissions office, academic advisor or the CLEP college search to see if your chosen college accepts CLEP.
Consider concurrent enrollment. Students who make good grades and score high enough on the ACT or SAT can receive a tuition waiver for up to six hours per semester to take credit-earning college courses during their junior and senior year of high school. This is a great option for getting a jump-start on your college experience. For more information about concurrent enrollment talk to your high school counselor or college admissions representative.
Compare important information like graduation rates, financial aid and other factors you should evaluate when picking a school at CollegeResults.org.
::Getting Financial Aid::
Financial aid comes in many forms and is a wonderful resource to help pay for college. Keep reading to learn more about financial aid.
The first step in the financial aid process is visiting StudentAid.gov to fill out the Free Application for Federal Student Aid (FAFSA) as soon as possible after Oct. 1 of the year you plan to attend college. The FAFSA is used to determine your eligibility for federal financial aid, including federal grants, scholarships and work-study opportunities. Many state and private financial aid programs require FAFSA completion, too.
Next, apply for as many grants and scholarships as possible, because this type of financial aid doesn't have to be repaid. For tips and resources on finding free money, check out UCanGo2's Scholarship Success Guide or OKcollegestart.org. Also, check with the school you'll attend to learn about their scholarship opportunities.
Student loans should be the last financial aid tool you use. Not because they're a bad way to fund your education, but because they must be repaid with interest. When borrowing student loans, explore all your borrowing options to find the loan that best meets your need. Federal student loans typically have lower interest rates and better repayment options than private loans. Borrow only what you need to pay school expenses to keep your student debt as low as possible.
For more information about completing the FAFSA, visit StartWithFAFSA.org.